Purchase Perfection
Find the incredible car you've been searching for.
1995 Ferrari F50 Berlinetta Prototipo
The Geneva and Tokyo Motor Show car, The prototype F50, Test driven by Dario Benuzzi, Niki Lauda, Gerhard Berger, and Jean Alesi, Documented by Marcel Massini, Known provenance, Ferrari Classiche/Red Book Certified.
Play Trailer
1936 Auburn 852 SC Boattail Speedster
1 of fewer than 10 1936 ACD Certified Speedsters, CCCA Senior and 100 Point Award winner, Excellent documented restoration, Supercharged "SC" model with Columbia rear axle, Fully recognized by the CCCA as a Full Classic®, Part of the Morgan Collection since 2005
Play Trailer
1965 Dodge Coronet A990 Lightweight Hemi-Charger
Exceedingly rare Hemi Lightweight, Incredible preservation class example with just 887 original miles, Original condition including the engine, Interesting period racing history, The most significant A990 in existence
Play Trailer
1971 Plymouth 'Cuda 440-6 Convertible
One of only five examples produced for 1971, Owned since 1987 by NHL star and Hockey Hall of Famer, Ed Belfour, Matching numbers with show-quality professional restoration, Includes preserved and mostly intact Broadcast Sheet, Exceptionally well-equipped with factory options, Completely restored to show-winning standards in 2006, O.E. Gold certification awarded at 2007 Mopar Nationals
1937 Packard Twelve 1508 Convertible Sedan
Purchased new by Jack Warner as a gift for two-time Academy Award Winner Bette Davis, Two-time entrant, with a podium finish, at the Pebble Beach Concours d'Elegance, Recently serviced, magnificent V-12 engine, All-weather comfort for touring or parade duty, Verified original ownership, Long list of achievements and awards including 100 points three-times, Extremely well-presented as originally ordered, Rare body style as one of just four known divider window examples
Your Worldwide Experience
Bidding with the right auctioneer changes everything. Whether you're a seasoned bidder or you're new to the game, we'll provide you with a premiere car-buying experience.
Smooth and simple process
Energized and welcoming team focused on giving you a great experience
Experts on every detail of every car so you can be confident in what you purchase
A team who sells, not one who bids against you at their own auctions
A VIP-level treatment for every visitor
Confusing and frustrating process
Busy staff who focus more on their auction than your needs
End up missing crucial details on the rarest cars
Bid against you in their auctions
Buyers are shuffled along like a another number
Finding the perfect collector car you have been waiting for is a process that should be fun and exciting from beginning to end. At Worldwide Auctioneers, we guarantee just that.
The most frustrating experience to me is when other auction companies have a confusing process and treat their guests like numbers instead of people. This completely ruins the thrill of Auction Day.
At Worldwide we truly care about you and your cars. On auction day you can expect to feel like a VIP guest from the moment you pull in to the moment you're in front of the bid caller.
There's nothing that makes me smile more than watching you drive off with the car of your dreams. I'll see you at the next auction!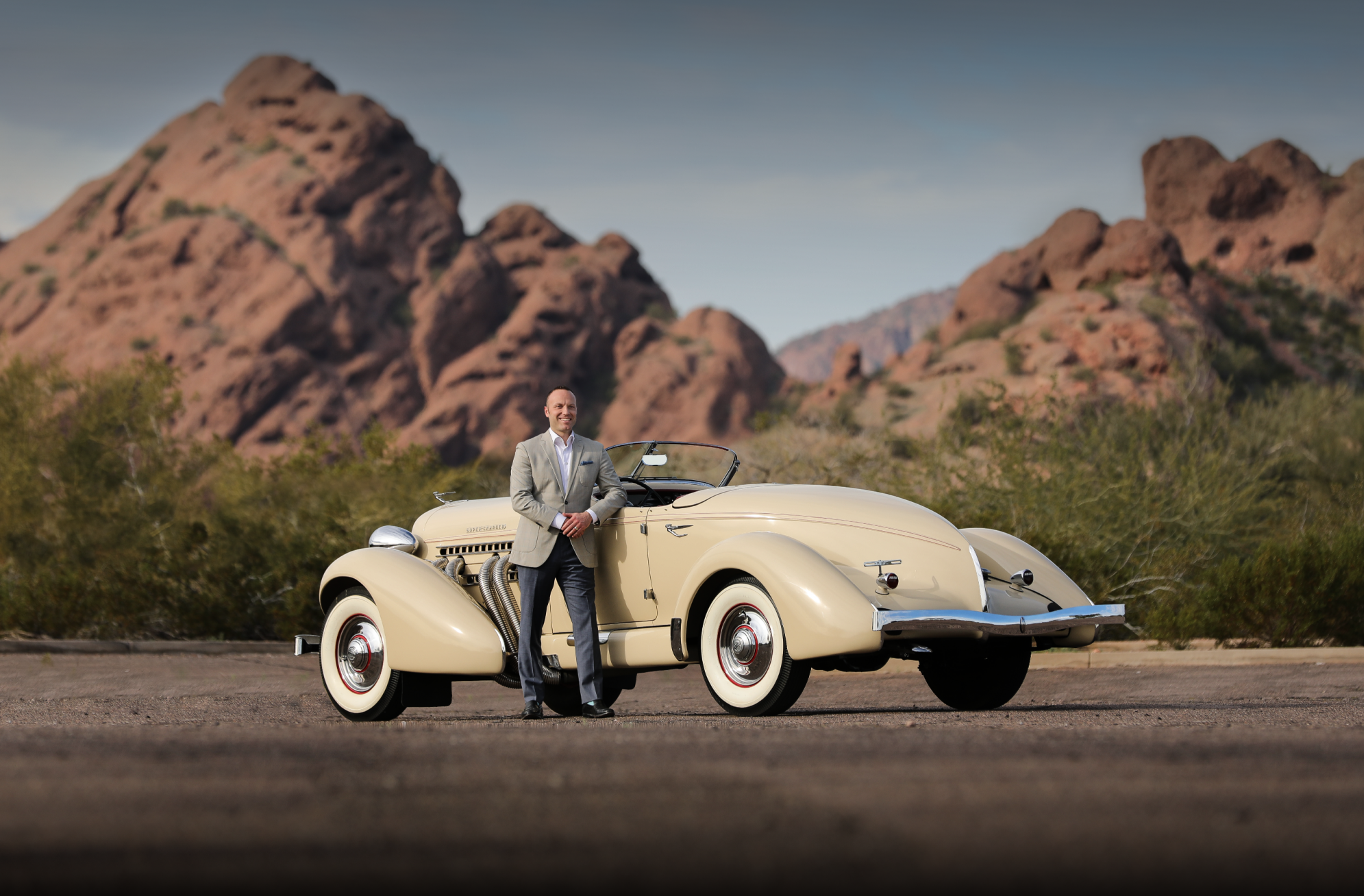 John Kruse
Principal and Auctioneer
john@worldwideauctioneers.com

Can't make it to Auction Day?
Not a problem! Simply register in advance and we'll arrange for a personal vehicle walkthrough via phone call with one of our Motorcar Specialists, who will execute your bids.